With so many different kinds of protein powder brands available in India, it can be daunting to choose which is the right supplement for you. A lot of new and amateur fitness enthusiasts and athletes get confused between casein protein and whey protein. Each of them have a specific use and help the body in their own ways.
There are two components in milk – whey and casein. 80% is casein while 20% is whey. Casein protein is considered to be at par with whey protein but the only different is the rate at which they are absorbed. Depending upon your fitness needs and requirements you can either get a whey protein powder or a casein protein supplement. Once casein protein comes in contact with the enzymes of your stomach, it lengthens the digestion as well as absorption process. That's why casein protein is known as slow digesting protein that provides sustained energy.
If your fitness goal is to build muscles then Nutrabay whey protein supplements will be the best choice. Whey proteins contain all essential branched chain amino acids that are important for muscle building and protein synthesis. On the other hand casein protein contains certain kind of bioactive peptides that have beneficial effects on your digestive system, boost your immunity, and support cardiovascular health. Whey protein contains immunoglobins that boost your immune system.
Here are 5 best casein protein powder supplements available in India that must be on your radar if you're a fitness enthusiast.
Optimum Nutrition (ON) 100% Casein Protein
Optimum Nutrition (ON) is one of the bestselling whey protein brands. But do you know that ON 100% Casein Protein is also equally popular among fitness enthusiasts. It is a slow digesting and absorbing protein that is ideal to be consumed after workouts, in between meals, or before bedtime. It is available in a delicious chocolate flavor.
Each serving provides 24 g of protein to help build and maintain muscles, 5 g naturally occurring BCAAs to support endurance and recovery, and 5 g Glutamine and Glutamic acid. The amino acid in this protein prove to be the building blocks for muscle building and casein protein can deliver BCAAs for optimum recovery for up to 8 hours.
Nutrabay Pure Series Whey Protein (Extended Release)
You must be aware of how beneficial Nutrabay whey protein can be in helping you accomplishing your fitness goals. But if you're looking for an alternate protein, then Nutrabay Pure Series Whey Protein (Extended Release) is a great option. It is one of the best know casein protein supplements in India.
It is especially designed to have an extended release of amino acids for post workout and nighttime recovery. Some of the main benefits of this Nutrabay protein are – supports post workout recovery, provides sustained release of amino acids, digests slowly so provides energy throughout the day, prolonged protein synthesis, supports night time recovery, and helpful in muscle growth.
Each serving of Nutrabay Whey Protein provides 24.4 g of protein and 1.5 g of carbohydrates. It is available in an unflavored powder form so you can easily add it to your favorite beverage, dessert, or smoothie and get all the benefits.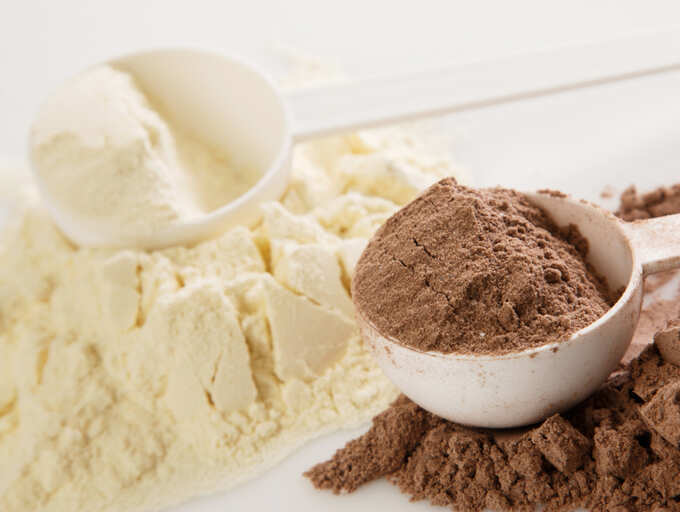 Dymatize Elite Casein
If there's one brand that cannot be overlooked when it comes to listing some of the best whey protein and casein protein supplements, it is Dymatize. Dyamtize Elite Casein is made from high quality protein. It is an amazingly delicious, sustained absorbing, and high quality Micellar casein supplement. It is especially engineered to support muscles over several hours.
It is available in 2 variants – cinnamon bun and rich chocolate. Each serving provides 24 g protein, provides 50% of RDA of calcium, and provides 10 g of BCAAs and glutamine. The rich taste is one of the highlights of this supplement. A steady supply of BCAAs and other EAAs supports extended muscle recovery and muscle maintenance in the best possible way.
MuscleTech NitroTech Casein Gold
Looking for a highly efficient and affordable casein protein? Your search ends at MuscleTech NitroTech Casein Gold. It features Micellar casein and provides 8 hour sustained release. It is ideal for active men and women to high performing athletes and bodybuilders. The high quality protein that this supplement provides is essential to promote muscle repair while also delivering prolonged amino acid release to feed your muscles.
It is available in a great chocolate supreme taste. It delivers 24 g of protein in each serving. Some of the main benefits of MuscleTech NitroTech Casein Gold are – helps build lean muscles, boosts recovery, and prevents muscle breakdown. It is a great tasting formula which doesn't have any extra sugar and doesn't have any gritty texture which means it'll make smooth shakes.
Rule 1 Casein
Rule 1 Casein is one of the top selling casein proteins not just in India but all over the world. If your fitness goal is muscle building and muscle recovery then this will be the perfect casein protein supplement for you. It is a vegetarian formula that is suitable for both men and women. The best part about Rule 1 Casein is that offers 7 – 8 hours of continual absorption as it is a serious sustained fuel.
It is available in 2 variants – cookie delight and chocolate fudge. Each serving provides 25 g of protein in a special overnight formula for extended amino activity. It is naturally rich in branched chain amino acids (BCAAs) to boost energy, metabolism, and recovery.
You can get all these casein protein supplements and various other Nutrabay whey protein supplements on the official website. And don't forget to consult your doctor before including any new supplement in your routine.